Reliable Plumbing Services in Westminster, CA
Lean on our pros to resolve all your plumbing issues.
Our experts will come to your rescue!
We have the expertise to resolve your issue 
Olson Superior Plumbing is a reputable company specializing in a wide range of plumbing services in Westminster and across Orange County, CA. We've established a comprehensive process that fuses an expertise-based approach with cutting-edge equipment and technology to guarantee that each customer receives the same high level of service. With nearly 15 years of success in the industry, our countless satisfied customers are a testament to our dedication to excellence.
Our trained plumbers are at your beck and call in Westminster
We understand that plumbing problems can be a hassle, and we're here to make sure they're taken care of as quickly and efficiently as possible. Whether you have a clogged drain or a leaky pipe, our team is equipped to handle any problem that you may have. Time is of the essence when it comes to emergencies, so you need to act fast. Our team of diligent plumbers is standing by 24/7/365 when you need immediate assistance.
Reap the benefits of our comprehensive plumbing services
The secret to our success is our team's unwavering dedication and diligent approach to each plumbing service in Westminster and the nearby communities. Before a thorough inspection, our specialists will talk with you about the problem you've noticed. After learning about your specific issue, they'll devise an appropriate plan to tackle the problem. Once fixed, they'll proceed with the final testing to ensure that everything is back to normal.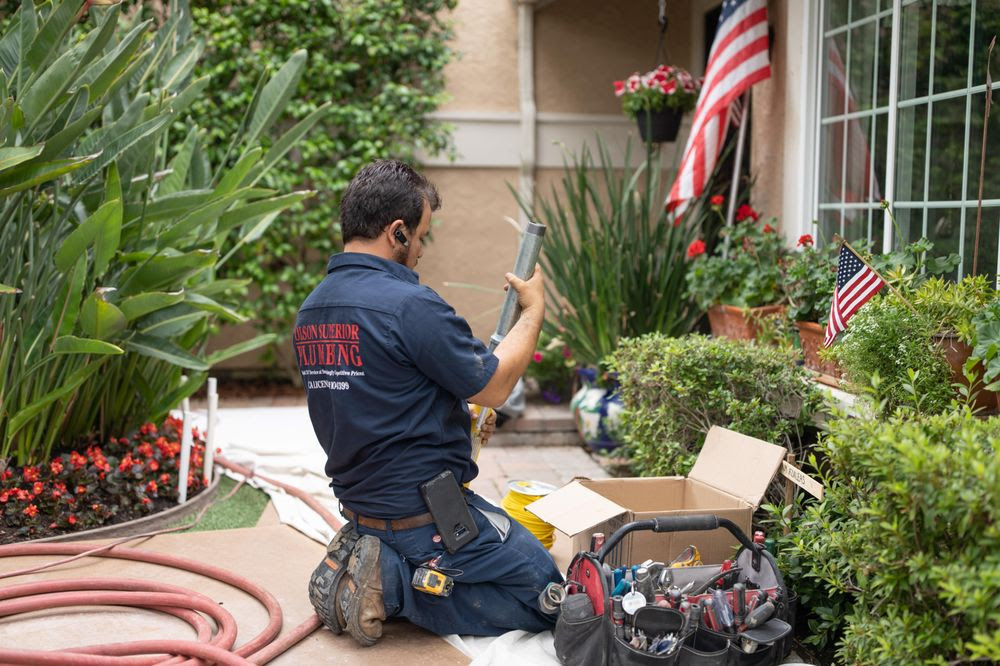 Book Your Appointment Today!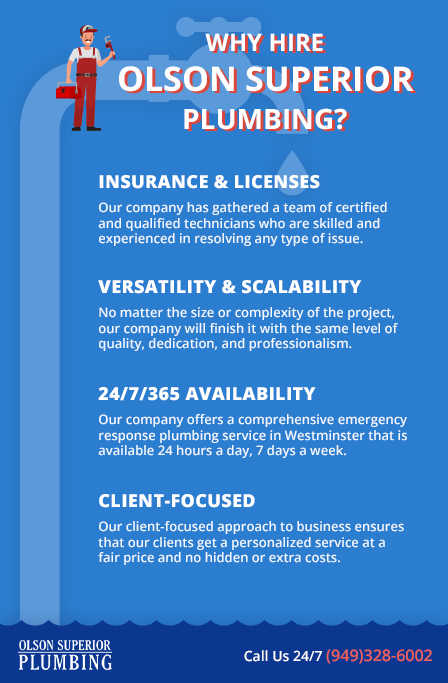 Our satisfied clients trust us
"I had a great experience with Lyle from Olson plumbing. He was very reliable and trustworthy in fixing some of my water leakage problems. He called 20 minutes prior to arriving, was professionally dressed and wore booties into the house. He did a complimentary inspection of my plumbing system and brought up some of the culprits which could be contributing to the water leakage and increased water bill.
After we agreed on the repairs, he completed them speedily. He was also very honest, providing opinion about what repairs were urgent and which could wait. Even my pup loved him! Really enjoyed my experience and will recommend Olson plumbing to friends and family."
Crystal Y, Irvine, CA
"I have used Olson Plumbing before and did not hesitate to call them again when I was worried that I had a gas leak from my stove. They sent Anthony over right away and he was able to locate the leak immediately. I was so relieved that they were able to send someone out immediately as it was an emergency situation. Anthony as always was very thorough and kind. I will use These guys for all of my future plumbing needs."
Chelsea V, Laguna Hills, CA
"I'm very impressed with Olson Plumbing, the owner Eric, and service provider James, are both integrous people at the top of their game, highly respectful and professional.
After having many issues with plumbers, I was delighted that Olson has their license readily available, and further, Eric has priceless insights into building code, and the long term mechanics of plumbing for lasting work. Definitely worth the call. Prices are fair and work is high quality backed by a guarantee. Thank you for your hard work and quality responses."
Dan R, Ladera Heights, Los Angeles, CA
"They are amazing! They came out to replace my water heater and also fixed some broken valves under my bathroom sink.
Eric Taysom is the best!!! When I called, he picked up the phone right away and walked me through getting my water turned off to stop the flooding even though my valves weren't working. He made sure we got great service, constant, consistent care, a great price, and even followed up with us after everything was finished to make sure we were still OK and fully satisfied with everything they had done for us."
Sean T, Rancho Santa Margarita, CA
Get in touch with the leading plumbers in Westminster
Our company's main goal is to provide expert help when you need it most. You can contact us at (906) 256-6406 or send us a message via the link below. We'll arrive as soon as possible to address any concerns you may have.

Frequently Asked Questions
What are the main signs of plumbing issues?
If you see any of the following signs, you may have a plumbing issue:
Water stains on ceilings or walls
Mold growth
Pooling water
Slow or no drainage
Foul odors coming from drains
Unusual sounds coming from pipes or drains
Taking quick action will help to minimize the damage. Be sure to contact expert plumbers as soon as possible to make the necessary repairs.
Read More
Why Is my water heater leaking?
There are a few different reasons your water heater might be leaking. The most common one is that the tank has developed a leak. This is usually due to corrosion of the tank itself. Another possibility is that one of the pipes or fittings connected to your water heater is loose or has developed a leak. If you see water leaking from the tank, it's critical to shut off the power to your water heater and call professional plumber services in Westminster right away.
Read More
What do I do if a pipe bursts in my home?
If a pipe bursts in your home, you'll need to take immediate action to minimize the damage. Turn off the water at the main shut-off valve. This will stop the flow of water into your home and give you time to make repairs. Then, call a reliable plumbing service to repair the burst pipe.
Read More
Who offers expert plumbing services in Westminster, CA & the vicinity?
Olson Superior Plumbing is your strongest ally when you need professional and emergency plumbing services. We're a locally-operated business that believes in honesty and integrity, which is why we always go above and beyond to make sure our clients are happy. Whether you're located near
Mile Square Regional Park
or in the vicinity of
Sigler Park
, we possess the necessary expertise and cutting-edge equipment to resolve any emergencies you may be experiencing. Our seasoned pros are also available for other services, including:
Read More