Dependable Pipe Leak Detection & Repairs in Westminster, CA
Our 24/7 emergency crews are always available to meet your needs.
We are your trusted ally in all types of plumbing emergencies.
Having the right team on your side makes all the difference
Olson Superior Plumbing is a trusted provider of pipe leak detection, repair, and other plumbing services that operates throughout Westminster and other parts of Orange County, California. Over the course of our 14+ years in the industry, we've built a reputation for reliability, speed, and an unrelenting commitment to providing an exceptional service. Contact us and let our crew of seasoned technicians show you why we're one of the most in-demand companies in the county.
Around-the-clock pipe leak detection & repair in Westminster
Few things in life are as frustrating as having a pipe burst in your home while you're enjoying your holidays, or getting an inexplicably steep water bill out of the blue. To make dealing with these and similar emergencies as easy and as painless as possible, we've established 24/7 emergency plumbing crews and equipped them with all of the tools and supplies they need to resolve any plumbing malfunction at a moment's notice.
We view every service call as an opportunity to impress
Our management team has a knack for finding and retaining talented professionals who have an impeccable work ethic and care about ensuring our clients' happiness. This focus on quality has enabled us to outclass our competition and garnered us the trust of hundreds of homeowners across Westminster and beyond. When you work with us, there's no question that your pipe leak repair and detection will be done to the highest standards.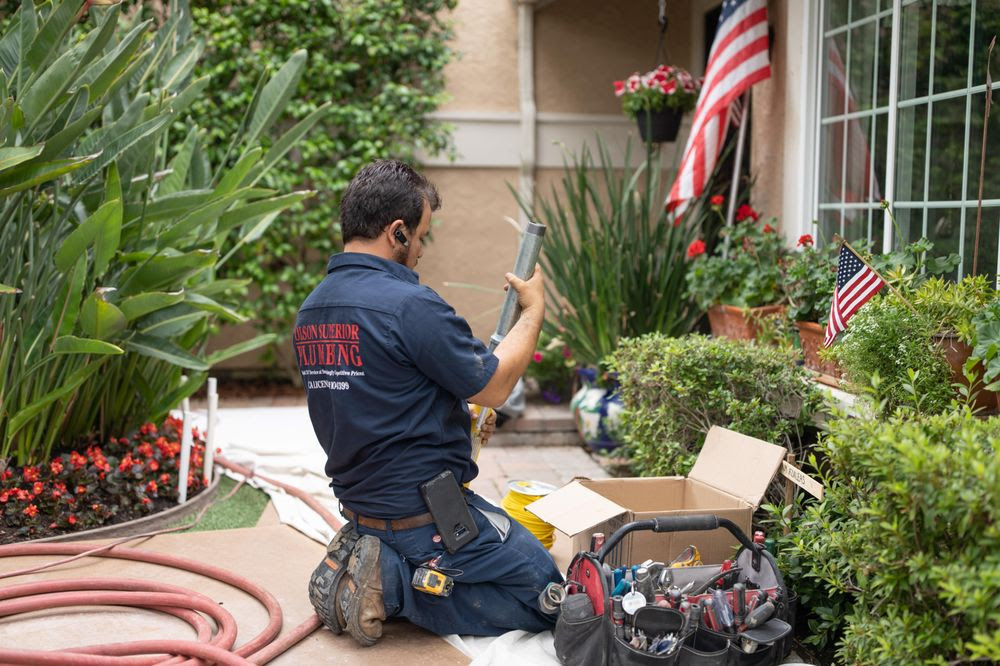 Book Your Appointment Today!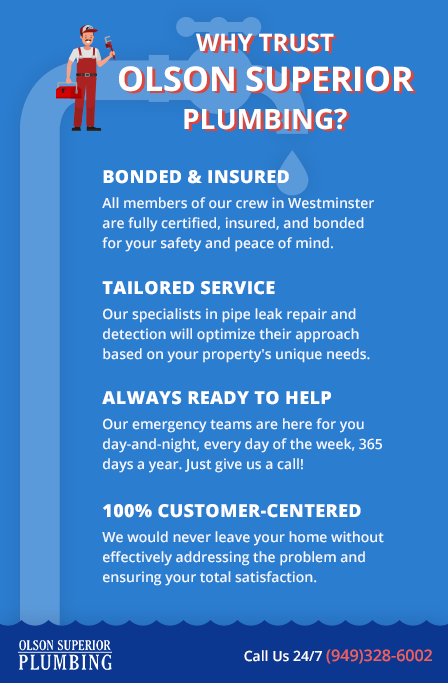 Do you require emergency pipe leak repairs & detection in Westminster? Call 949-328-6002 & we'll be with you soon!
Here's why we have so many return customers
"I had a great experience with Lyle from Olson plumbing. He was very reliable and trustworthy in fixing some of my water leakage problems. He called 20 minutes prior to arriving, was professionally dressed and wore booties into the house. He did a complimentary inspection of my plumbing system and brought up some of the culprits which could be contributing to the water leakage and increased water bill.
After we agreed on the repairs, he completed them speedily. He was also very honest, providing opinion about what repairs were urgent and which could wait. Even my pup loved him! Really enjoyed my experience and will recommend Olson plumbing to friends and family."
Crystal Y, Irvine, CA
"I have used Olson Plumbing before and did not hesitate to call them again when I was worried that I had a gas leak from my stove. They sent Anthony over right away and he was able to locate the leak immediately. I was so relieved that they were able to send someone out immediately as it was an emergency situation. Anthony as always was very thorough and kind. I will use These guys for all of my future plumbing needs."
Chelsea V, Laguna Hills, CA
"I'm very impressed with Olson Plumbing, the owner Eric, and service provider James, are both integrous people at the top of their game, highly respectful and professional.
After having many issues with plumbers, I was delighted that Olson has their license readily available, and further, Eric has priceless insights into building code, and the long term mechanics of plumbing for lasting work. Definitely worth the call. Prices are fair and work is high quality backed by a guarantee. Thank you for your hard work and quality responses."
Dan R, Ladera Heights, Los Angeles, CA
"They are amazing! They came out to replace my water heater and also fixed some broken valves under my bathroom sink.
Eric Taysom is the best!!! When I called, he picked up the phone right away and walked me through getting my water turned off to stop the flooding even though my valves weren't working. He made sure we got great service, constant, consistent care, a great price, and even followed up with us after everything was finished to make sure we were still OK and fully satisfied with everything they had done for us."
Sean T, Rancho Santa Margarita, CA
Westminster's preferred team for pipe leak detection & repair
We consider it our duty to supply each client with the best possible service every time. Click the button below and have your problems handled by our experienced and hardworking technicians.

Frequently Asked Questions
Is pipe leak detection necessary?
Pipe leak detection is incredibly important. Without it, a malfunction can go undetected for long periods of time, causing severe damage to your home and potentially leading to hazardous mold infestations. If you suspect you may have a leak at your property, contact us ASAP.
Read More
How do you seal a pipe leak fast?
If you have to ask, you probably shouldn't do it yourself. Your best course of action is to turn off the water supply at your Westminster call and give us a call. Our emergency technicians will soon arrive to fix the issue.
Read More
How long does a pipe leak take to fix?
It depends on its severity, where it's located, and how accessible it is. Small problems can be addressed in a few minutes, while major leaks beneath floors or inside walls may require minor demolition and can take 1-3 days to complete.
Read More
How much does it cost to get a pipe leak detected?
The price varies depending on how deep and serious the problem is. Regardless of your circumstances, you should never postpone pipe leak detection, as letting this problem go undetected can lead to far greater costs in the future.
Read More
Who provides expert pipe leak repairs & detection in Westminster, CA & the region?
Established in 2008, Olson Superior Plumbing is a reputable plumbing service provider that caters to residential and commercial clients across Orange County, California. We can meet a wide array of different needs, including
highly dependable slab leak detection and repair
,
non-stop emergency plumbing repairs and replacements
,
extensive drain cleaning and unclogging services
,
proficient water heater repair, replacement, and installation
, as well as a
large selection of general plumbing services
. Whether you live near the
Asian Garden Mall
or right next to the
Westminster Rose Center
, our team is just a few clicks away at all times. Reach out to us today.
Read More