Pipe Leak Detection
Our sewer lateral inspections use modern software to ensure optimal results.
Discover a higher level of service that puts you first.
Go Forward Lateral: A Revolution in Sewer Lateral Inspections
Sewer lateral inspections used to be a huge time-waster. Although the inspections themselves only took about 30 minutes to complete, the process of submitting the findings to the city, which then had to determine which repairs were needed to bring the sewer lateral up to code, could be a massive hassle for owners, plumbers, and city workers alike.
This all changed when Jesse Aizenstat of Santa Barbara, California, released Go Forward Lateral in January, 2020. This modern, cloud-based software streamlines sewer lateral inspection programs by connecting plumbing contractors, property owners, and municipalities via a professional, user-friendly online tool.
Today, Go Forward Lateral (goforwardlateral.com) is required in various municipalities across Orange County, California. Plumbing contractors seeking to do any work in this area cannot get a permit unless they complete a video cam inspection, and then document and upload their findings to the website.
What's a sewer lateral & why does it need to be inspected?
A sewer lateral is the pipe that connects the plumbing system of a residential or commercial property to the city's sewer system. These pipes usually run beneath the property in question until they connect with a larger pipe, called a sewer main, which is typically located underneath the street or another nearby area.
Since the purpose of a sewer lateral is to remove wastewater from a property and deliver it to the sewer main to be transported to a wastewater treatment facility, it's a crucial component of a building's plumbing system.
To prevent damage and health hazards caused by clogged, blocked, or damaged sewer laterals, these pipes need to be inspected on an annual basis, or after the property was bought or added onto. This ensures that any problems are caught on time and addressed before more severe (and costly) complications can occur.
How does Go Forward Lateral help?
Go Forward Lateral greatly simplifies communication at every stage of a sewer lateral inspection program by providing a unified platform for the entire inspection lifecycle. It streamlines the submittal process, facilitates the creation and delivery of professional reports, ensures file compatibility during report submittal, prevents data loss, and saves time and money for everyone involved.
Here's how everyone benefits from this software:
Inspectors (plumbing contractors) are able to create and deliver professional digitized inspection reports using a simple cloud-based tool. This eliminates the need to fill out hardcopy forms and drop off thumb drives with their video inspections at the city's offices.
Home or business owners can receive timely updates on the status of their sewer lateral inspection (submitted, reviewed, or completed). By being emailed their final CCTV inspection, they can easily access this data when they need it without the risk of misplacing the paperwork.
Municipalities are able to quickly and easily receive and review inspection reports. This streamlines the approval process and eliminates the need for clunky paper forms or cloud storage solutions. New data is inserted directly into ArcGIS as a layer.
Go Forward Lateral is also good for the environment. Since there's no longer any need for plumbers to drive down to the city's offices to deliver disposable thumb drives that contain their reports, fossil fuel usage and the amount of waste created is reduced. With everything being digital, there's no need for excess and unnecessary paperwork.
Book Your Appointment Today!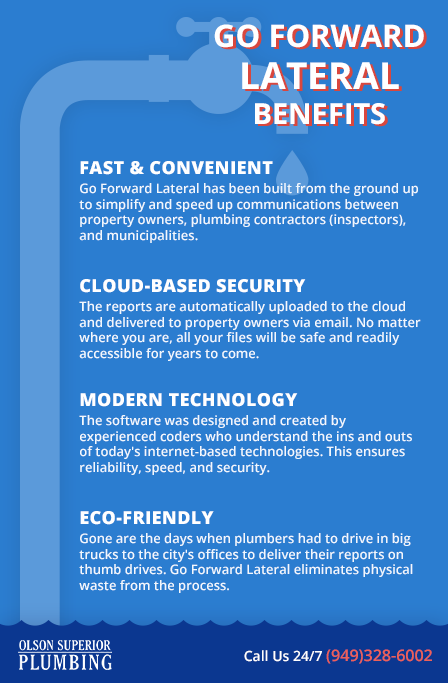 WHAT OUR CLIENTS SAY ABOUT OUR SERVICE
"I had a great experience with Lyle from Olson plumbing. He was very reliable and trustworthy in fixing some of my water leakage problems. He called 20 minutes prior to arriving, was professionally dressed and wore booties into the house. He did a complimentary inspection of my plumbing system and brought up some of the culprits which could be contributing to the water leakage and increased water bill.
After we agreed on the repairs, he completed them speedily. He was also very honest, providing opinion about what repairs were urgent and which could wait. Even my pup loved him! Really enjoyed my experience and will recommend Olson plumbing to friends and family."
Crystal Y, Irvine, CA
"I have used Olson Plumbing before and did not hesitate to call them again when I was worried that I had a gas leak from my stove. They sent Anthony over right away and he was able to locate the leak immediately. I was so relieved that they were able to send someone out immediately as it was an emergency situation. Anthony as always was very thorough and kind. I will use These guys for all of my future plumbing needs."
Chelsea V, Laguna Hills, CA
"I'm very impressed with Olson Plumbing, the owner Eric, and service provider James, are both integrous people at the top of their game, highly respectful and professional.
After having many issues with plumbers, I was delighted that Olson has their license readily available, and further, Eric has priceless insights into building code, and the long term mechanics of plumbing for lasting work. Definitely worth the call. Prices are fair and work is high quality backed by a guarantee. Thank you for your hard work and quality responses."
Dan R, Ladera Heights, Los Angeles, CA
"They are amazing! They came out to replace my water heater and also fixed some broken valves under my bathroom sink.
Eric Taysom is the best!!! When I called, he picked up the phone right away and walked me through getting my water turned off to stop the flooding even though my valves weren't working. He made sure we got great service, constant, consistent care, a great price, and even followed up with us after everything was finished to make sure we were still OK and fully satisfied with everything they had done for us."
Sean T, Rancho Santa Margarita, CA
Meet the leading plumbers in Orange County, California
Established in 2008, Olson Superior Plumbing is a customer-oriented company that puts your needs first. Whether you're in need of a sewer lateral inspection or any other plumbing service, you can count on our team to carry out every task with utmost precision and professionalism.