Expert Plumbing Services in Costa Mesa, CA
When you need assistance with your plumbing, you need us!
Orange County's respected plumbers are just a phone call away!
Our plumbers can help with a variety of problems
Olson Superior Plumbing, founded in 2008, is a reputable provider of a wide range of plumbing services across Costa Mesa and other nearby communities of Orange County, CA. We've assembled a team of experienced and dedicated plumbers who implement tried-and-true methods and cutting-edge technology to make sure you receive the highest possible standard of service. Our numerous satisfied clients describe the way we do business best.
24/7 professional plumbing services in Costa Mesa
Our emergency service means you're never without a friend when disaster strikes. Plumbing problems can arise at any time of day or night and range from minor clogs and leaks to severe pipe bursts and slab leaks, posing a significant structural hazard to your property. Don't worry, Olson Superior Plumbing is only a click or a call away, ready to resolve any problem you may have. Contact us at any time during the day or night and await our prompt arrival.
Our approach is what makes all the difference
We've designed a detail-oriented method to providing plumbing services across Costa Mesa and other nearby areas which ensures your utmost satisfaction with our services. First, our plumbers will consult with you concerning your problem and perform an in-depth inspection of the affected area. From there, they'll handle any necessary repairs or replacements using high-quality materials and advanced technology before testing to ensure proper operation.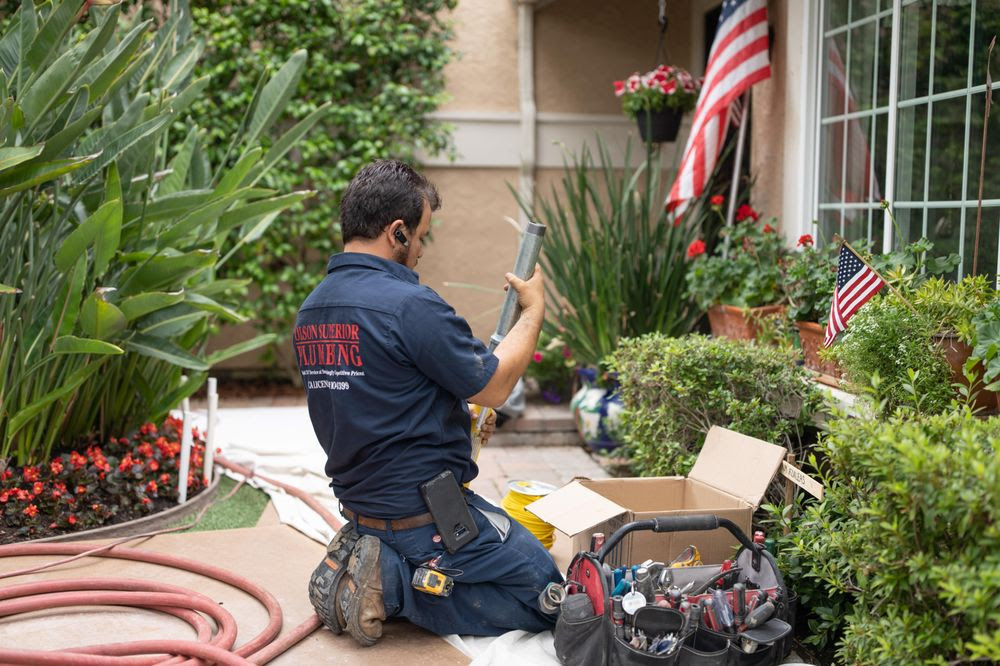 Book Your Appointment Today!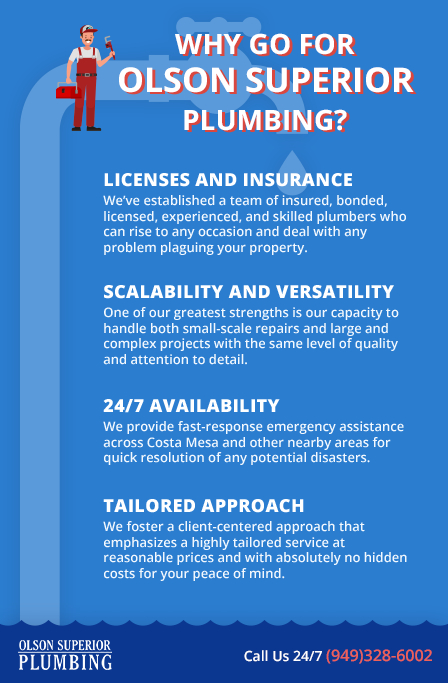 Our happy customers wish to share their experience
"I had a great experience with Lyle from Olson plumbing. He was very reliable and trustworthy in fixing some of my water leakage problems. He called 20 minutes prior to arriving, was professionally dressed and wore booties into the house. He did a complimentary inspection of my plumbing system and brought up some of the culprits which could be contributing to the water leakage and increased water bill.
After we agreed on the repairs, he completed them speedily. He was also very honest, providing opinion about what repairs were urgent and which could wait. Even my pup loved him! Really enjoyed my experience and will recommend Olson plumbing to friends and family."
Crystal Y, Irvine, CA
"I have used Olson Plumbing before and did not hesitate to call them again when I was worried that I had a gas leak from my stove. They sent Anthony over right away and he was able to locate the leak immediately. I was so relieved that they were able to send someone out immediately as it was an emergency situation. Anthony as always was very thorough and kind. I will use These guys for all of my future plumbing needs."
Chelsea V, Laguna Hills, CA
"I'm very impressed with Olson Plumbing, the owner Eric, and service provider James, are both integrous people at the top of their game, highly respectful and professional.
After having many issues with plumbers, I was delighted that Olson has their license readily available, and further, Eric has priceless insights into building code, and the long term mechanics of plumbing for lasting work. Definitely worth the call. Prices are fair and work is high quality backed by a guarantee. Thank you for your hard work and quality responses."
Dan R, Ladera Heights, Los Angeles, CA
"They are amazing! They came out to replace my water heater and also fixed some broken valves under my bathroom sink.
Eric Taysom is the best!!! When I called, he picked up the phone right away and walked me through getting my water turned off to stop the flooding even though my valves weren't working. He made sure we got great service, constant, consistent care, a great price, and even followed up with us after everything was finished to make sure we were still OK and fully satisfied with everything they had done for us."
Sean T, Rancho Santa Margarita, CA
Contact your go-to plumbers in Costa Mesa
Every single one of our technicians is completely focused on providing you with a higher standard of service. Feel free to follow the link below or contact us via phone at (906) 256-6406 and we'll come to your address to help you with any problem you have.
Frequently Asked Questions
What services do most plumbers offer?
Some of the most common plumbing services professionals offer in Costa Mesa, CA are:
General inspection and maintenance
Installations and replacements of fixtures, piping, and appliances
Leak detection and repair
Toilet repair
Unclogging
Drain cleaning
Water heater services
Sewer line repairs
Read More
How do I stop my plumbing emergencies?
When looking for a plumbing company to hire in Costa Mesa or another location in Orange County, CA, you need to pay attention to the following aspects:
Necessary licenses
Insurance and bonding
Warranty or satisfaction guarantee
Positive online reviews and number of customer testimonials
Availability of emergency services
Wide range of available services
Industry experience
Read More
How do I prepare for a plumber?
There are several things you can do to prepare for the arrival of your plumber:
Check for additional plumbing issues
Clear the area for easier access
Keep your pets out
Prepare as much information as possible
Take notes just in case
Read More
How often should you do plumbing?
The duration of a plumbing system, mainly the pipes, depends on their material, as well as other factors such as water pressure, chemistry, soil conditions, and others. The general lifespan of pipes is:
Brass: forty to seventy years
Copper: fifty years or longer
Galvanized steel: twenty to fifty years
Cast iron: seventy-five to a hundred years
Polyvinyl chloride: indefinitely
Read More
Which company offers detailed plumbing services near me in Costa Mesa & the area?
Olson Superior Plumbing has almost fifteen years of industry presence and the skills required to handle any type of problem you might be experiencing. Our plumbers have the experience and the knowledge necessary to perform numerous services across Costa Mesa, such as:
It makes no difference if your property is in the vicinity of
Lyon Air Museum
or closer to
Fairview Park
, you can count on our prompt arrival and expert assistance 24 hours a day. Reach out to us today and tell us what problem you have.
Read More