Dependable Drain Cleaning in Costa Mesa, CA
Count on our assistance no matter the time of day or night.
Lean on our experts for a swift solution to your plumbing issues.
Our specialists in drain cleaning will go above & beyond
Olson Superior Plumbing has served residential and commercial clients in Costa Mesa and across Orange County, California, for nearly 15 years. We're a locally-owned and operated company that puts an emphasis on our clients' satisfaction. Our dedicated team renders swift and methodical drain cleanings and performs other plumbing-related services that will relieve you of the stress of dealing with an emergency with your drain system.
We've got you covered for drain cleaning in Costa Mesa
We're always here for you when a plumbing disaster strikes. With our 24/7 emergency services, you can have peace of mind knowing that help is just a phone call away. You can rely on our professionals to show up on time and take care of the problem. We'll provide diligent drain cleaning so you can avoid any additional hassle and get your plumbing back to a working condition.
How our team stands out from the rest
We have gathered a team of certified and insured technicians to ensure you always receive the consistent 5-star quality service we're known for. No one wants to wait around for a professional when they're dealing with a plumbing issue, which is why our team is available around the clock for your drain cleaning in Costa Mesa and throughout the region.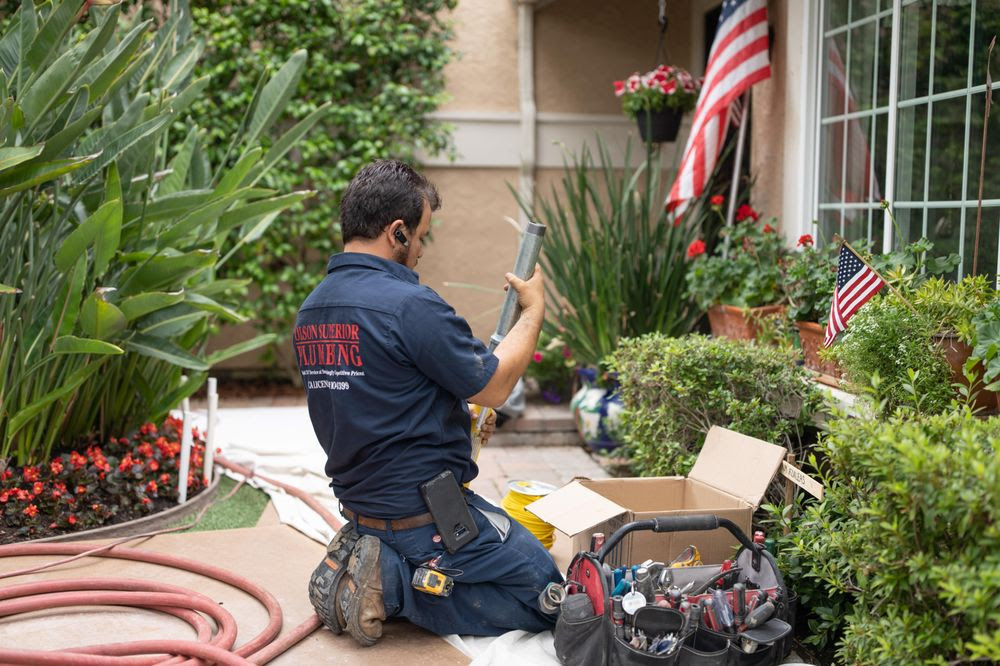 Book Your Appointment Today!
Call us at (949) 328-6002 if you're in need of emergency drain cleaning. Our team will be there in no time!
Our clients can attest to our dedication
"I had a great experience with Lyle from Olson plumbing. He was very reliable and trustworthy in fixing some of my water leakage problems. He called 20 minutes prior to arriving, was professionally dressed and wore booties into the house. He did a complimentary inspection of my plumbing system and brought up some of the culprits which could be contributing to the water leakage and increased water bill.
After we agreed on the repairs, he completed them speedily. He was also very honest, providing opinion about what repairs were urgent and which could wait. Even my pup loved him! Really enjoyed my experience and will recommend Olson plumbing to friends and family."
Crystal Y, Irvine, CA
"I have used Olson Plumbing before and did not hesitate to call them again when I was worried that I had a gas leak from my stove. They sent Anthony over right away and he was able to locate the leak immediately. I was so relieved that they were able to send someone out immediately as it was an emergency situation. Anthony as always was very thorough and kind. I will use These guys for all of my future plumbing needs."
Chelsea V, Laguna Hills, CA
"I'm very impressed with Olson Plumbing, the owner Eric, and service provider James, are both integrous people at the top of their game, highly respectful and professional.
After having many issues with plumbers, I was delighted that Olson has their license readily available, and further, Eric has priceless insights into building code, and the long term mechanics of plumbing for lasting work. Definitely worth the call. Prices are fair and work is high quality backed by a guarantee. Thank you for your hard work and quality responses."
Dan R, Ladera Heights, Los Angeles, CA
"They are amazing! They came out to replace my water heater and also fixed some broken valves under my bathroom sink.
Eric Taysom is the best!!! When I called, he picked up the phone right away and walked me through getting my water turned off to stop the flooding even though my valves weren't working. He made sure we got great service, constant, consistent care, a great price, and even followed up with us after everything was finished to make sure we were still OK and fully satisfied with everything they had done for us."
Sean T, Rancho Santa Margarita, CA
Rely on highly skilled pros for drain cleaning in Costa Mesa
At our company, we always put emphasis on delivering top-tier services to our clients. Join a long list of satisfied residents by clicking the link below!
Frequently Asked Questions
How do I know if my drains need to be cleaned?
Your drains are one of the most important parts of your home in Costa Mesa, and keeping them clean is essential to maintaining a healthy household.
There are a few telltale signs that your drains may need to be cleaned:
Water draining slowly from sinks, tubs, or showers
Gurgling or bubbling sounds coming from drains
Bad odors emanating from drains
Standing water in sinks, tubs, or showers
If you notice any of these signs, it's time to call the professionals for a thorough drain cleaning. Our technicians have the tools and knowledge necessary to thoroughly clean your drains and keep them flowing freely.
Read More
How often should I schedule drain cleaning?
Drain cleaning should be performed routinely, and typically once a year. You shouldn't wait for a serious issue such as a clog to arise.
Instead, reach out to schedule an appointment with our specialists to conduct a thorough clean of your entire system. However, if you're dealing with an emergency, our team is available 24/7 in Costa Mesa to assist you.
Read More
Why do I need a specialist for drain cleaning?
Drain cleaning is an important but often overlooked part of home maintenance. A clogged or slow-running drain can be a nuisance, and if left unchecked, can lead to more serious problems like water damage or flooding. While you may be tempted to try and clear a clog yourself with store-bought chemicals, this is not always the best solution. A professional will have the knowledge and experience to quickly and safely clear your drain, without damaging your plumbing. Read More
Who performs thorough drain cleaning in Costa Mesa, CA & beyond?
With nearly 15 years of experience in the industry, Olson Superior Plumbing has stayed true to its name with top-tier drain cleaning and other services related to residential and commercial plumbing issues.
Our company is composed of highly skilled, certified, and insured professionals who will always go the extra mile to deliver a lasting solution to your troubles. Whether your property is located near Lyon Air Museum or in the vicinity of Orange Coast College, our reliable team is here for you 24/7. Besides meticulous drain cleaning, we also render: 
Our services are just a quick phone call or click away. Schedule your appointment and we'll arrive at your property without delay!
Read More