Reputable Slab Leak Repair & Detection in Santa Fe Springs, CA
Need help with your plumbing issues? Count on us 24/7/365.
Book your appointment & we'll be at your location in no time.
Our specialists will be there when you need professional assistance
Olson Superior Plumbing, 11803 Slauson Ave Unit B1 Santa Fe Springs, CA 90670, is a family-owned and operated business providing slab leak repair and detection for residential and commercial clients in Santa Fe Springs and across Orange County, CA. We boast a team of qualified experts with the experience, skills, and cutting-edge equipment necessary to tackle any plumbing problem you may have. Reach out to our plumbers today to set up an appointment.
Round-the-clock emergency slab leak detection & repair in Santa Fe Springs
Plumbing issues often occur at the worst possible time. A sudden pipe burst in the middle of the night can cause major water damage, and a clogged toilet can be a huge inconvenience. When these issues arise, it's important to have a reliable company you can call for help. Luckily, our dedicated plumbers are available 24/7 to help you with any issue you may be dealing with.
How our pros differ from the rest
When it comes to slab leaks, no repair or detection is too big or small for us. We have the experience and expertise to get the job done quickly and efficiently, and are always here to answer any questions you may have along the way. When you book our services, we commit to being there every step of the way until the job is completed to your satisfaction. We make sure our technicians have the latest equipment and techniques, so you can rest assured that you're getting the best possible service. We always go the extra mile to ensure your home in Santa Fe Springs is fully functioning again.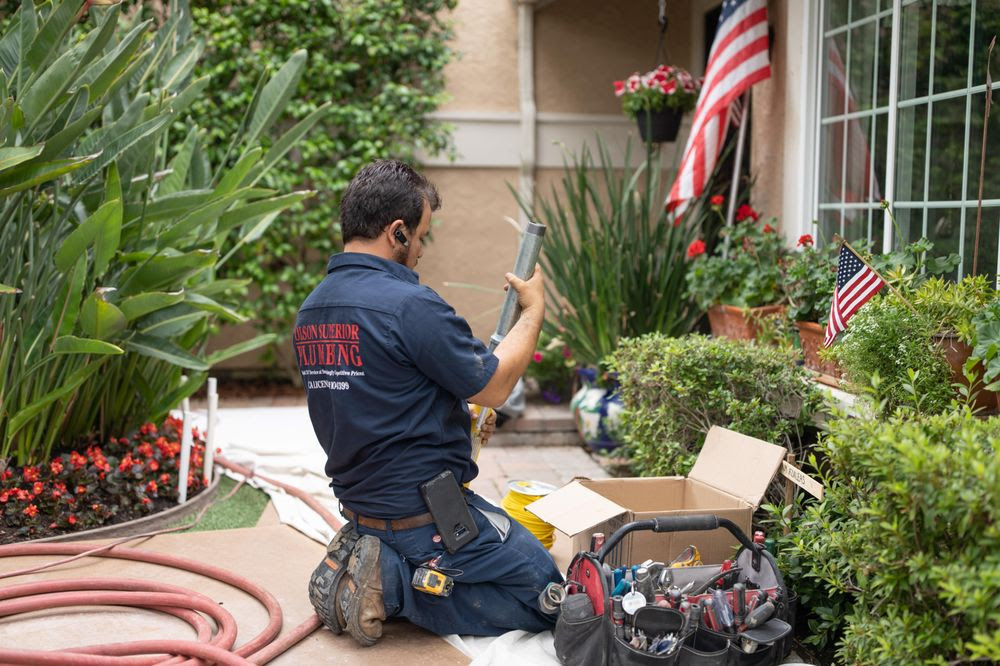 Book Your Appointment Today!
Need swift slab leak repair & detection? Contact us at (906) 256-6406 to have our specialists come to your location immediately.
What our loyal clients say about us
"I had a great experience with Lyle from Olson plumbing. He was very reliable and trustworthy in fixing some of my water leakage problems. He called 20 minutes prior to arriving, was professionally dressed and wore booties into the house. He did a complimentary inspection of my plumbing system and brought up some of the culprits which could be contributing to the water leakage and increased water bill.
After we agreed on the repairs, he completed them speedily. He was also very honest, providing opinion about what repairs were urgent and which could wait. Even my pup loved him! Really enjoyed my experience and will recommend Olson plumbing to friends and family."
Crystal Y, Irvine, CA
"I have used Olson Plumbing before and did not hesitate to call them again when I was worried that I had a gas leak from my stove. They sent Anthony over right away and he was able to locate the leak immediately. I was so relieved that they were able to send someone out immediately as it was an emergency situation. Anthony as always was very thorough and kind. I will use These guys for all of my future plumbing needs."
Chelsea V, Laguna Hills, CA
"I'm very impressed with Olson Plumbing, the owner Eric, and service provider James, are both integrous people at the top of their game, highly respectful and professional.
After having many issues with plumbers, I was delighted that Olson has their license readily available, and further, Eric has priceless insights into building code, and the long term mechanics of plumbing for lasting work. Definitely worth the call. Prices are fair and work is high quality backed by a guarantee. Thank you for your hard work and quality responses."
Dan R, Ladera Heights, Los Angeles, CA
"They are amazing! They came out to replace my water heater and also fixed some broken valves under my bathroom sink.
Eric Taysom is the best!!! When I called, he picked up the phone right away and walked me through getting my water turned off to stop the flooding even though my valves weren't working. He made sure we got great service, constant, consistent care, a great price, and even followed up with us after everything was finished to make sure we were still OK and fully satisfied with everything they had done for us."
Sean T, Rancho Santa Margarita, CA
Your trusted team for slab leak detection & repair in Santa Fe Springs
Our customers are our top priority, and we strive to provide them with the best possible service. Follow the link below and take advantage of our 24/7 emergency services.
Frequently Asked Questions
Can a plumber detect leaks?
Yes, a professional plumber will utilize high-tech non-invasive electronic equipment and methods to deliver precise analyses that are both cost-effective and efficient. If you think you have a leak, the best course of action is to call an expert to come and take a look. They will be able to locate the source of the slab leak and make repairs as needed.
Our team has vast experience and uses state-of-the-art equipment to successfully detect any issues and prevent them from spreading.
Why is early detection of a slab leak important?
The earlier a slab leak is detected, the less damage it will cause to your home in Santa Fe Springs. If left undetected, they can lead to serious problems like mold, mildew, and structural damage to your electrical systems and pipes. Early slab leak detection can help you avoid these costly repairs. Additionally, early detection can help you pinpoint the source of the leak more quickly. This can save you time and money in the repair process.
If you think you may have an issue with your plumbing system, it's important to contact our pros as soon as possible. They can help you determine if you indeed have a slab leak and what the best course of action is.
What does the slab leak repair process consist of?
Slab leak repair generally consists of three steps: identifying, repairing, and preventing future leaks.
The first step is to identify the source. This can be done by visually inspecting the pipes, using a moisture meter to locate areas of high moisture content or a pressure gauge to identify areas of high water pressure. Once the source has been identified, the next step is to repair.
There are several ways this can be achieved, but the most common method is to insert a sleeve into the pipe to seal off the leak. This method is typically used for small leaks. For larger ones, it may be necessary to replace the entire section of pipe.
The last step in the process is to prevention. This can be done by replacing old or damaged pipes, installing devices for slab leak detection, or performing regular maintenance on the plumbing system.
Who provides dependable slab leak detection & repair in Santa Fe Springs, CA & the vicinity?
With over 15 years of experience in the industry, Olson Superior Plumbing is the leading company for all your plumbing needs. Our dedicated professionals can conduct swift slab leak detection and repair, as well as a broad range of services in Santa Fe Springs, including:
● Expertise-based pipe leak detection and repair,
● Comprehensive and efficient plumbing,
● Emergency and 24/7 plumbing assistance,
● Expertise-based drain cleaning and unclogging,
● In-depth water heater repair and installation, and more.
Our pros are at your disposal no matter the time of day. Give us a call and we'll send a team promptly to your location regardless of whether you're situated near Hathaway Ranch Museum or closer to Santa Fe Springs Park. Reach out today and let us know how we can assist you!