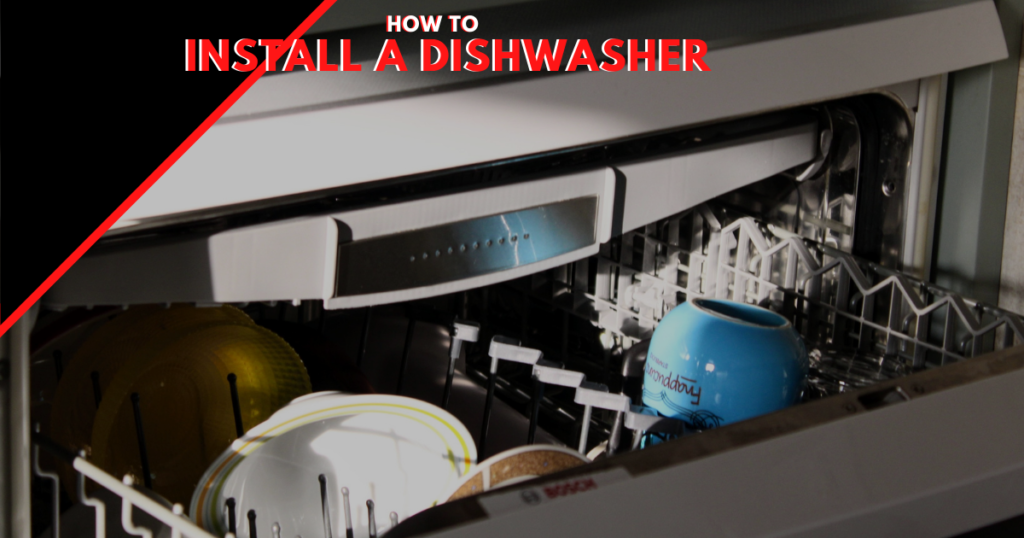 Do you know how to install a dishwasher? The process is actually a fairly simple process if you are not afraid to get hands-on. It requires a little bit of knowledge of water supply lines and your circuit breaker.
Your kitchen is a busy place. It's the heart of your home and it is where we spend most of our time preparing food, cleaning up after meals, and enjoying each other's company. One thing that makes doing all this easier is having a dishwasher.
Installing a dishwasher is not an overly complicated project, but if done incorrectly it can lead to serious problems down the line. It's important that everything is installed correctly so that there are not any leaks or other issues with the appliance later on.
Tools and Materials for Installation
When you are installing a dishwasher, there are a few tools you'll need handy. You can get most of these online, at a department store, or at a home improvement store. Installing a dishwasher requires:
Safety goggles
Pliers
Power drill
Hole saws
Adjustable wrench
Screwdriver
Standard level
Tube cutting shears
Dishwasher installation kit
Supply lines/dishwasher connector
Wire connectors and wire terminals
How to Install a Dishwasher
You might think that installing a dishwasher is as simple as just plugging it in. While it is still fairly easy, there are some steps you need to take before and after the installation of your new appliance.
Step 1: Remove Your Old Dishwasher & Set up Safely
If you're replacing a dishwasher rather than installing one for the first time, you'll first need to get rid of the existing appliance. If your home is brand new and never had a dishwasher before, you will still need to follow these safety precautions.
First, check your dishwasher's instruction manual. This may have specific instructions about your exact model.
Before you get to work, make sure you're safe by shutting off the electricity to the dishwasher. You can do this from your circuit breaker. We recommend using a voltage detector to confirm that it is off.
Then, turn off the water supply with your shut-off valve. This is located beneath your sink.
You can then use a screwdriver to remove the front access panel near your floor.
You'll see the wiring connections from your existing dishwasher in the terminal box. You'll want to disconnect these.
Then, using an adjustable wrench, you'll also want to disconnect the old water supply line from the dishwasher. Some water might leak out once you do this, so we recommend having a bowl handy to collect any water.
The next thing to disconnect is the drain hose.
Then, you'll remove the screws from the anchor brackets (also called mounting brackets). These mounting brackets are what keep your dishwasher in place along with your cabinets and countertops.
Now, you are ready to remove your old dishwasher! We recommend placing down some cardboard or a sheet so you can protect your floor. Then, remove your old dishwasher.
Before you install your new one, make sure you tape your electrical cable to the floor. This will keep the cable where you need it.
Step 2: Get Your New Dishwasher Ready
If you haven't already, check your new dishwasher's manual. This can clue you in about any special parts you might need to buy or anything specific about the model. It will be easier to access the electrical and plumbing connections if your new dishwasher is tipped onto its back.
We also recommend placing some cardboard, a large cloth, or a tarp down by your installation site. This way, you can protect your floors.
First, remove your front access panel. Your dishwasher installation kit should include a 90-degree elbow fitting. Attach the elbow fitting to the water valve. Your manufacturer's instructions can provide more specific steps that are applicable to your unit.
Installing the Water Supply Valve
First, disconnect the previous supply line from the shutoff valve.
Locate the hole between your dishwasher and the kitchen sink cabinets.
Route your new supply line through the hole in the sink cabinet. Secure it to the floor with tape so it stays in place when you add the new dishwasher.
Connect the shut-off valve and the new water supply line.
Installing the Dishwasher Drain Hose
You'll first want to disconnect your current drain hose from your garbage disposal or sink tailpipe.
Locate the hole between your dishwasher and the sink cabinets.
Route your new drain hose through the hole in the sink cabinet. Secure it to the floor with tape so it stays in place when you add the new dishwasher.
Connect the shutoff valve and the new drain hose.
If there's any slack in your drain hose, secure it to the back of your cabinets. It should have high arches that are above your drain inlet, sink drain, and garbage disposer.
Now, you can tip your dishwasher upright and slide it into place.
Step 3: Connect the Water Supply, Drain, and Electrical Lines
Now that you have your new dishwasher in place, it's time to connect the water supply, drain, and electrical lines. You'll need to get on the floor to connect the lines.
Use pliers to connect the water supply line to the 90-degree fitting. Make sure it's tight.
Turn your water supply on and then check for leaks.
Follow your manufacturer's instructions to connect your drain hose; this step may slightly vary from unit to unit.
Your installation guide will let you know which wire nuts you need to complete the electrical connections.
Now that your water supply is connected, you can turn your electricity back on. You should check now to make sure that the dishwasher turns on.
Step 4: Finishing Touches
You're almost done! There are a few final steps you should make to ensure that your dishwasher is working properly.
Use your level to make sure that the appliance is even. If it's not level, it won't drain properly.
Adjust your leveling legs if you need to. You can then tighten your locknuts.
Make sure that the front of the dishwasher is as flush with your sink cabinet as possible.
Ake sure that the door's edges are at the back of the cabinet frame.
Confirm your dishwasher is in the right place and position. Adjust placement as needed.
Secure the dishwasher in place with the brackets. You will attach these to the sides of the cabinets and the underside of your counters.
Replace your front access panel.
Enjoy your new dishwasher!
Orange County's Most Trusted Plumber
If you need more help, call Olson Superior Plumbing! We service all of Orange County with honest, upfront pricing and integrity. We put you and your home first! When you need a new dishwasher but want to save time and energy, we're here for you. A professional plumber will be able to help you quickly and efficiently.
If you've never worked on an appliance installation before, it can become easy for something simple to turn into a costly problem. You can rely on our Rapid Response Team to install your dishwasher. We also offer water line repair services.
Frequently Asked Questions
Can I install a dishwasher myself?
Absolutely! If you're good at DIY home solutions, it is possible to install a dishwasher yourself. When you purchase a dishwasher, look for the owner's manual for additional assistance. Most home improvement stores sell dishwasher installation kits that help, too.
Does a plumber need to install a dishwasher?
If you're running into trouble with dishwasher installation, give us a call. At Olson Superior Plumbing, we can help you troubleshoot any issues. When you're ready to install or replace a dishwasher, we have the tools and expertise to get the job done. We offer free estimates and services in all of Orange County.
Do I need a dishwasher air gap?
Some localities require a dishwasher air gap. If you aren't sure if you're in a plumbing code that requires a dishwasher air gap, just give us a call and we can help you.
Dishwasher air gaps prevent cross-contamination with waste. This way, your dishwasher doesn't flood with contaminated water.
If you're installing a dishwasher and notice a precut air gap hole in the counter, or one that is covered by a small disc shape, then you likely need an air gap. To install this, connect the air gap to your dishwasher drain hose or garbage disposal. You'll need a hose clamp for this connection. Then, push the air gap through the hole in your counter.
If you have any questions, call our 24/7 Rapid Response Team at 949-328-6002 or email us at [email protected] – If you want more information online, please visit us @https://www.OlsonSuperior.com
For industry insights, announcements, and tips make sure to follow our blog at: olsonsuperior.com/blog