When is it Time to Repipe?
Our 24 Hour Emergency Orange County Plumbing pros know how to recognize when a repipe is needed but do you know when it's time for a repipe in your home?  Repiping your home can sometimes be the best and only answer to a plumbing leak. A complete and thorough home repipe can seem like a hard task, and while it can be disruptive to your relaxing home life, it doesn't have to be a dreadful experience.
Trusting a repiping specialist to repipe the water lines in your home can make all the difference in the world when it comes to the end result and your experience during the actual process.
Essential things to ask if you're repiping your home
Are you licensed, bonded, and insured?
How long have you been in business?
What kind of pipe will you be replacing my plumbing with?
What kind of fittings will you use?
Will you be putting up plastic to protect my personal property?
Will you be replacing the valves and supply lines at each individual fixture?
How long will the project take?
Are You Licensed, Bonded & Insured?
This is a big question to ask whenever you're having anyone do work at your home. Typically, a licensed company has to pass extensive exams proving they are qualified to do the work.  In addition, licensed plumbing contractors also have to pass background checks and must be bonded and insured to properly maintain and keep their license.
You don't want to trust just any local Orange County Plumbing Company in your home, so make sure it is being taken care of by those that are qualified enough to do the job the right way.
How Long Have You Been In Business?
Asking a local Orange County Plumbing Company how long they have been in business doesn't always tell you if they are a great and trustworthy plumber, but it can give you an indication of the longevity of the company and properly help you feel more secure that they will still be around for quite some time.
The dreadful statistics of companies that go out of business within the first five years are staggering in any profession, and plumbing is not excluded from this statistic.  Many local Orange County Plumbers think they can go into business for themselves and make money, but they soon discover that it is very different to being an owner-operator and a handful of these companies are forced to close up shop and that unfortunately leaves you, the client, with no warranty on your repipe. Another great way to verify a companies professionalism is by taking a look at their Yelp Business Page and referencing what past customers have said about them.
What Kind of Pipe Will You Use?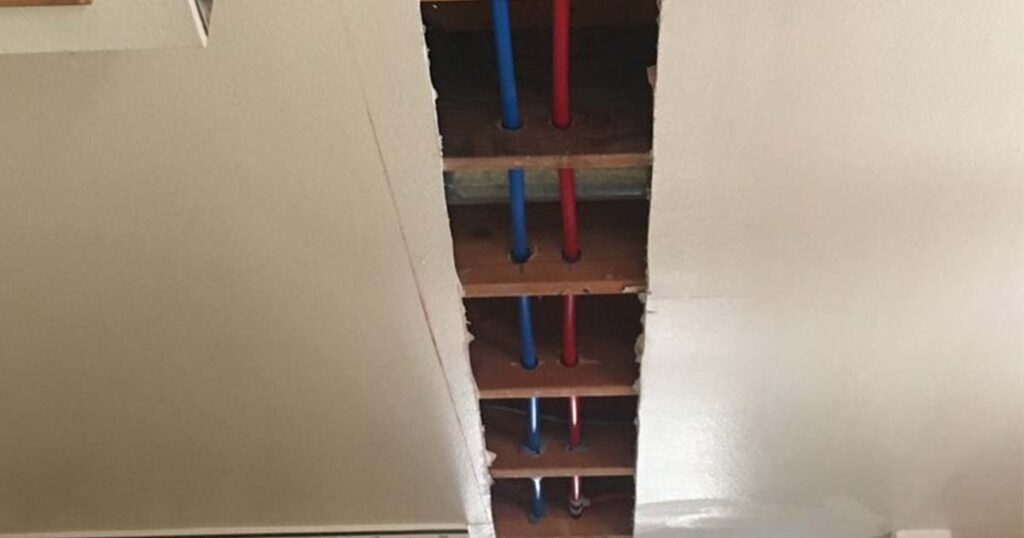 The type of pipe selected by the contractor can make a severe impact on the price of your repipe.  For example, a copper repipe is often twice the cost due to increased material cost and labor costs than a repipe completed in plastic.
Polybutylene isn't a bad pipe, it just isn't legal to use in the United States but is acceptable in other countries.
Copper can be an incredible choice when choosing to repipe your home, it has a long history of reliability and we still give the option for copper repipes, even though PEX Repipes are the most in-demand type of repipe. PEX pipe also has a long history of reliability and is a fraction of the cost of copper.
Furthermore, PEX repipes are less costly on labor because of the flexibility of PEX piping. There are several manufacturers of PEX "A" piping (the type of pipe used for domestic water lines).
Another pipe that may be offered to you, and while it is up to plumbing code, we do not recommend it, is CPVC.  CPVC is a ridged type of plastic pipe similar to PVC, but it is rated for hot water use.  Unfortunately, this type of piping, overtime gets brittle and becomes very hard to repair.
Will You Be Replacing the Valves and Supply Lines at Each Fixture Included in the Cost of the Repipe?
If your home is being repiped, our local Orange County Plumbing experts highly advise that the shutoff valves, known as angle stops and supply lines are replaced at the same time. Connecting old angle stops and supply lines back up to the new pipe is a disaster just waiting to happen.
How Long Will the Project Take?
A repipe can vary in length of time based on how many team members are on the project as well as the size of your home.  Whether you have one story or two, the number of levels you have in your home play a drastic role in the length of time, as well as if you have attic access or a flat roof.  There is an assortment of variables when it comes to time but our Orange County Plumbing Experts suggest to get a rough estimate of just how long the project should take so that you can plan out the correct way.
If you have any questions, call our 24/7 Rapid Response Team at 949-328-6002 or email us at [email protected] – If you want more information online, please visit us @ https://www.OlsonSuperior.com
For industry insights, announcements, and tips make sure to follow our blog at: olsonsuperior.com/blog