Meticulous Drain Cleaning Services in Huntington Beach, CA
Clogged drains can be a real headache. Luckily, you have us!
Hire one of the leading plumbing companies in Orange County.
Our company is your gateway to cleaner and functional drainage
Olson Superior Plumbing boasts over 14 years of experience and numerous customers happy with its professional drain cleaning services in Huntington Beach and the surrounding communities. We hire only dedicated and trained pros who are ready to go the extra mile in order to meet your needs and help you with your plumbing issues. Whether you're in need of drain maintenance or you have an emergency situation, you can rely on us 24/7/365.
Take advantage of our meticulous and client-focused approach
Regular clean-up of your sewage system is essential if you don't want your drains to clog over time due to grease and dirt build-up. No matter the size and scope of the process, our company is ready for both routine and emergency drain cleanings across Huntington Beach and will perform them promptly and efficiently. Our reliable pros are trained and knowledgeable about all types of residential and commercial systems and will address the issue with utmost care and precision.
Detail-oriented drain cleaning services in Huntington Beach
We strive to make sure every customer is completely satisfied with every step of our professional drain cleaning. Our reliable team members are insured, bonded, and certified for your peace of mind. They'll follow modern industry practices while making sure to customize the whole plan per your needs and expectations. If you hire us you can expect honest pricing and a qualified team that uses cutting-edge hydro jetting technology.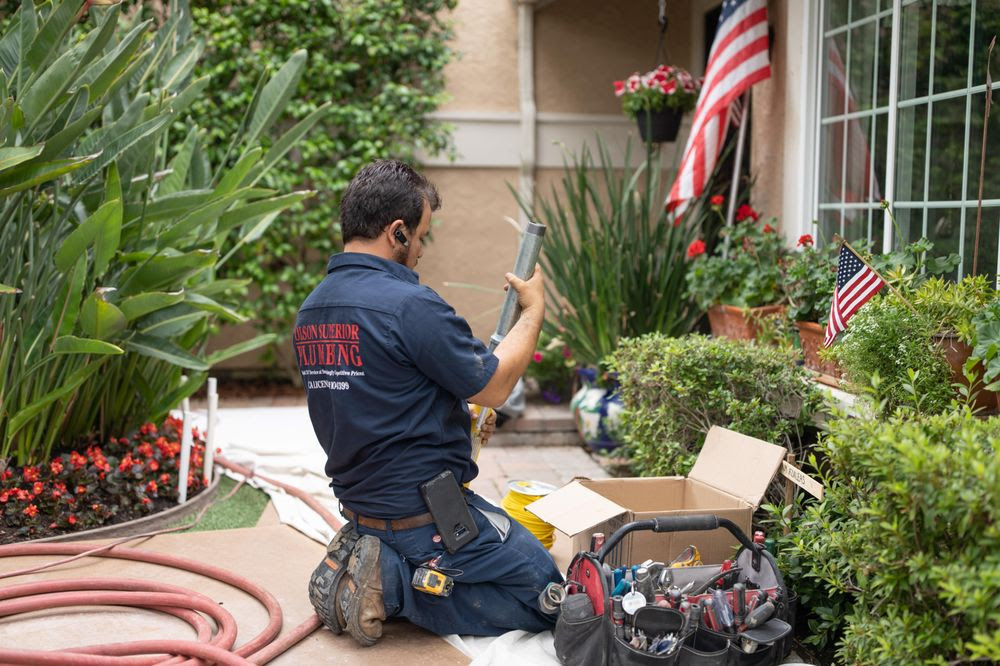 Book Your Appointment Today!
Looking for drain cleaning services in Huntington Beach? Call (949) 328-6002 & we'll be there as soon as possible!
Our happy customers are our best reward:
"I had a great experience with Lyle from Olson plumbing. He was very reliable and trustworthy in fixing some of my water leakage problems. He called 20 minutes prior to arriving, was professionally dressed and wore booties into the house. He did a complimentary inspection of my plumbing system and brought up some of the culprits which could be contributing to the water leakage and increased water bill.
After we agreed on the repairs, he completed them speedily. He was also very honest, providing opinion about what repairs were urgent and which could wait. Even my pup loved him! Really enjoyed my experience and will recommend Olson plumbing to friends and family."
Crystal Y, Irvine, CA
"I have used Olson Plumbing before and did not hesitate to call them again when I was worried that I had a gas leak from my stove. They sent Anthony over right away and he was able to locate the leak immediately. I was so relieved that they were able to send someone out immediately as it was an emergency situation. Anthony as always was very thorough and kind. I will use These guys for all of my future plumbing needs."
Chelsea V, Laguna Hills, CA
"I'm very impressed with Olson Plumbing, the owner Eric, and service provider James, are both integrous people at the top of their game, highly respectful and professional.
After having many issues with plumbers, I was delighted that Olson has their license readily available, and further, Eric has priceless insights into building code, and the long term mechanics of plumbing for lasting work. Definitely worth the call. Prices are fair and work is high quality backed by a guarantee. Thank you for your hard work and quality responses."
Dan R, Ladera Heights, Los Angeles, CA
"They are amazing! They came out to replace my water heater and also fixed some broken valves under my bathroom sink.
Eric Taysom is the best!!! When I called, he picked up the phone right away and walked me through getting my water turned off to stop the flooding even though my valves weren't working. He made sure we got great service, constant, consistent care, a great price, and even followed up with us after everything was finished to make sure we were still OK and fully satisfied with everything they had done for us."
Sean T, Rancho Santa Margarita, CA
Your go-to drain cleaning services in Huntington Beach
Our goal is for our customers to live in a safe and functional home which is why we go the extra mile to make this possible. Whatever plumbing issue you have, don't hesitate to contact us and one of our technicians will be there to listen to you carefully. If you hire us, you'll be placing your drains in the hands of trained pros passionate about helping others.
Frequently Asked Questions
What are the common things that can clog my drains?
Some of the most common things that can cause clogging of your drain and require our professional cleaning services in Huntington Beach are the following:
Oil and grease
Tree roots
Hair
Disposal wipes
Soap scum and beauty products
Animal waste
Food
Read More
Can I unclog my own sewer line?
It's not advisable to perform this on your own. Many sewer line clogs are caused by more complex issues deep within your plumbing system.
This is why you need a team of experts in drain cleaning in Huntington Beach who have the expertise and supplies to successfully find the solution to a problem like this.
Read More
How often should the main drain be cleaned?
A general rule of thumb is to perform the main drain cleaning at least once in 19 months. Whenever you decide to complete this important household maintenance task, our pros in Huntington Beach will be there to assist you. Read More
How do you tell if your sewer line is clogged?
Some of the signs your sewer line is clogged and needs expert drain cleaning are the following:
Water backing up in the sink
Multiple drains backing up
Water backs up in shower when you flush the toilet
A foul odor
Read More
Who offers professional drain cleaning services near me in Huntington Beach & nearby?
Olson Superior Plumbing has over 14 years of experience in solving plumbing problems across the Orange County area. Our team of plumbers approach every task in a detail-oriented and responsible manner. Our clientele recognizes the customer-oriented approach, as well as the uniqueness and quality of our job.
You can depend on us for a large variety of services, such as:
Expertise-based water heater repair and installation.
While you relax at Davenport Beach Park or Lark View Park, our professional plumbers will ensure your drainage or any other plumbing system operates without a hitch. Call us today and we'll deal with the clogged drains so you don't have to!
Read More