Expert Emergency Plumbing in Santa Ana, CA
Our team is ready for all types of emergencies 24 hours a day, 7 days a week.
Book now and let us take care of the rest.
Meet a skilled crew that puts quality first
Here at Olson Superior Plumbing, we take pride in our team of skilled, knowledgeable, and hard-working technicians who have the detail-oriented approach required to deliver efficient emergency plumbing solutions to the people of Santa Ana and the surrounding cities. We boast a lengthy list of happy customers, and go above and beyond to meet their needs and requirements. Whenever you need us, our crew will be on their way.
Round the clock emergency plumbing in Santa Ana
Accidents tend to happen when you least expect them. That's why we've put together a reliable rapid response team that can reach you in a matter of minutes 24 hours a day, including on weekends and holidays. They're equipped with everything they need to take care of any malfunction in an efficient and timely manner. All you need to do is give us a call and we'll be at your door, ready to deal with any issue that may be troubling you.
Customer satisfaction is our number one priority
Treating our customers in Santa Ana properly during every stage of their emergency plumbing service is our primary responsibility. Apart from using top-notch tools and supplies, we also take special care to hire skilled and experienced specialists who are always ready to deliver high-quality service. That's why we stand out from other companies: we're also a trustworthy friend that you can rely on, be it day or night.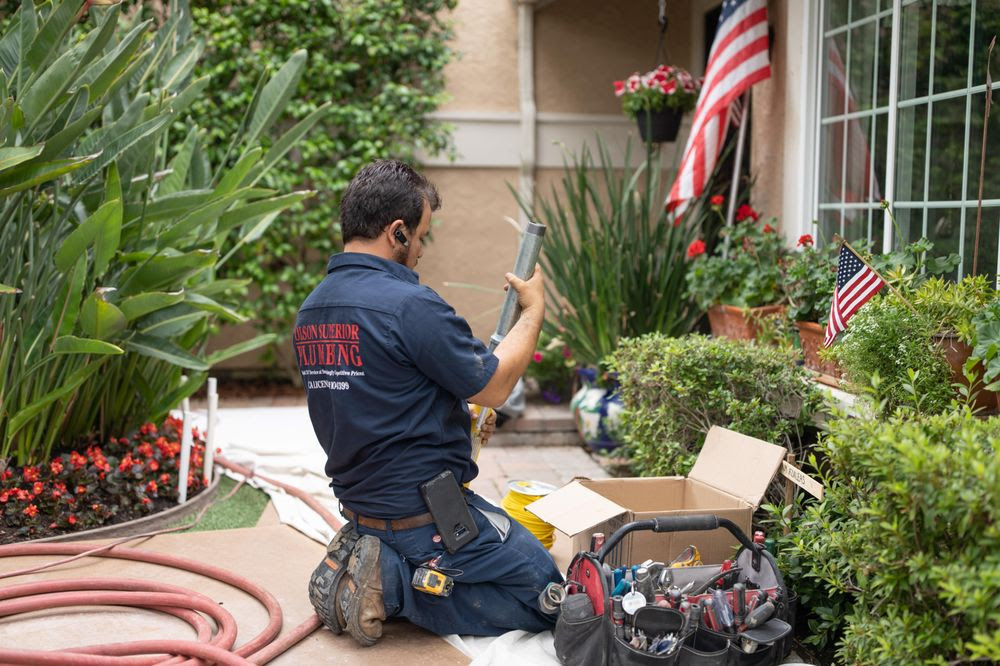 Book Your Appointment Today!
Need emergency plumbing in Santa Ana? Call 949-328-6002 & our specialists will promptly arrive at your home!
Our loyal clients make us who we are
"I had a great experience with Lyle from Olson plumbing. He was very reliable and trustworthy in fixing some of my water leakage problems. He called 20 minutes prior to arriving, was professionally dressed and wore booties into the house. He did a complimentary inspection of my plumbing system and brought up some of the culprits which could be contributing to the water leakage and increased water bill.
After we agreed on the repairs, he completed them speedily. He was also very honest, providing opinion about what repairs were urgent and which could wait. Even my pup loved him! Really enjoyed my experience and will recommend Olson plumbing to friends and family."
Crystal Y, Irvine, CA
"I have used Olson Plumbing before and did not hesitate to call them again when I was worried that I had a gas leak from my stove. They sent Anthony over right away and he was able to locate the leak immediately. I was so relieved that they were able to send someone out immediately as it was an emergency situation. Anthony as always was very thorough and kind. I will use These guys for all of my future plumbing needs."
Chelsea V, Laguna Hills, CA
"I'm very impressed with Olson Plumbing, the owner Eric, and service provider James, are both integrous people at the top of their game, highly respectful and professional.
After having many issues with plumbers, I was delighted that Olson has their license readily available, and further, Eric has priceless insights into building code, and the long term mechanics of plumbing for lasting work. Definitely worth the call. Prices are fair and work is high quality backed by a guarantee. Thank you for your hard work and quality responses."
Dan R, Ladera Heights, Los Angeles, CA
"They are amazing! They came out to replace my water heater and also fixed some broken valves under my bathroom sink.
Eric Taysom is the best!!! When I called, he picked up the phone right away and walked me through getting my water turned off to stop the flooding even though my valves weren't working. He made sure we got great service, constant, consistent care, a great price, and even followed up with us after everything was finished to make sure we were still OK and fully satisfied with everything they had done for us."
Sean T, Rancho Santa Margarita, CA
Top experts in emergency plumbing in Santa Ana
We take pride in the quality of our services and the lengthy list of satisfied homeowners whose issues we have successfully resolved. Click below and reap the perks of having reputable, client-oriented specialists in your corner.
Frequently Asked Questions
What is considered a plumbing emergency?
Any issue that can cause more damage to your home in Santa Ana the longer you wait to resolve it is considered a plumbing emergency. For instance, a leaking pipe may not seem to you like a big deal, but it can cause further damage, and you should call a plumber as soon as you notice it. Read More
How long does it take for an emergency plumber to come?
Reputable companies have their emergency plumbing teams all set and equipped to promptly arrive at the location where they're needed.
They will typically reach you in as little as 30 minutes or less.
Read More
How do I choose an emergency plumber?
The facts telling you you're about to hire a reliable emergency plumbing company in Santa Ana include:
Insurance and license
Excellent reviews and references
Upfront cost quote
Warrantied and guaranteed work
Plus, it's always better to go for a locally-owned and operated business.
Read More
How much does emergency plumbing cost?
The cost of an emergency plumbing service greatly varies depending on the issue in question. For instance, a minor repair that takes less than an hour to fix will certainly cost less than a burst pipe that needs to be replaced. Your local plumber will provide you with the cost estimate once they inspect the problem. Read More
Who offers reliable emergency plumbing in Santa Ana, CA & beyond?
At Olson Superior Plumbing, our skilled and knowledgeable team is capable of providing a wide range of high-quality services, including prompt and reliable slab leak detection, dedicated pipe leak repairs, detailed drain unclogging and cleaning, fast and efficient water heater repair and installation, as well as an array of general plumbing services.
Whether your home is close to the
Bowers Museum
, near the
Discovery Science Center
, or anywhere else across the county, we'll be there to assist you in a matter of minutes. Give us a call today.
Read More