Expertise-based Emergency Plumbing Services in Fountain Valley, CA
We'll make your plumbing problems go away in no time!
Make sure why we're one of the best emergency plumbers in Orange County
Our emergency plumbers are equipped for every scenario
Olson Superior Plumbing is a reputable company that has existed for over 14 years and counting. Thanks to our ample experience, great dedication, and knowledgeable experts, we continue to deliver top-of-the-line emergency plumbing services to our clients from Fountain Valley and other nearby areas. Whether you have a problem with broken pipes, toilets, or water heaters, call us and we'll appear at your door as fast as possible.
Emergency plumbing services Fountain Valley residents can rely on
We know accidents happen and we're happy to help you feel comfortable at your home again. This is why we've made sure we're available 24 hours a week, every day of the year. Give us a call and one of our friendly technicians will answer your questions and carefully listen to your concerns. We know it's important to act quickly, which is why we'll promptly arrive at your home and complete every step of the process using quality equipment and tried-and-tested methods.
Quality emergency plumbing services for your peace of mind
With our client-focused approach, detailed fault inspection and detection, as well as professional repair, you'll get an efficient and long-lasting solution. We'll make sure the problem is solved in no time while also ensuring your plumbing system in Fountain Valley stays functional for a long period of time. Our dedicated pros will tailor a customized plan that matches your needs and expectations. Rely on us and you'll get help whenever an unwanted disaster occurs.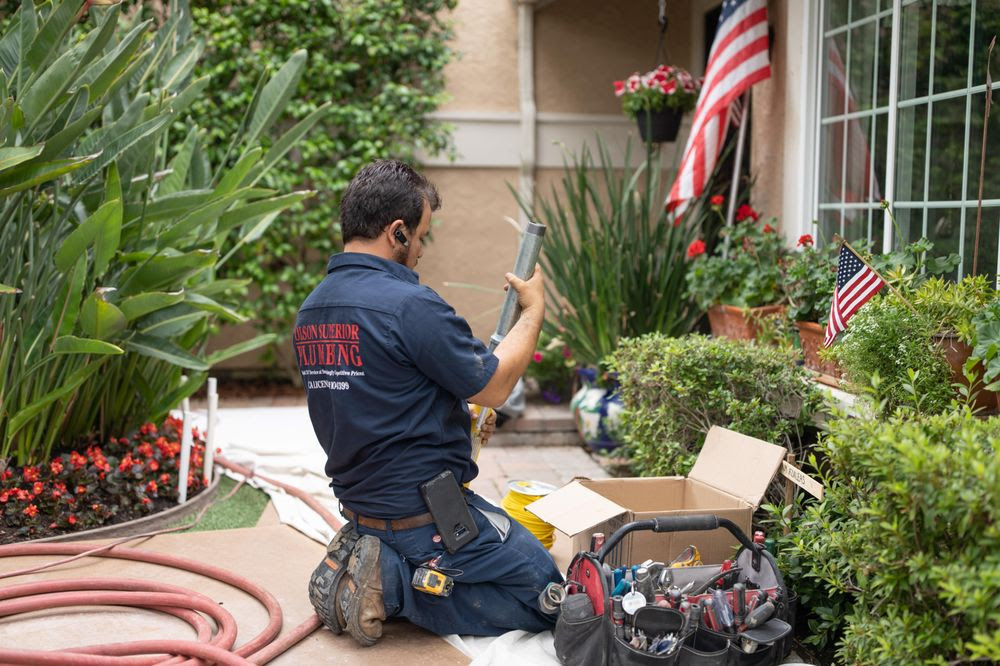 Book Your Appointment Today!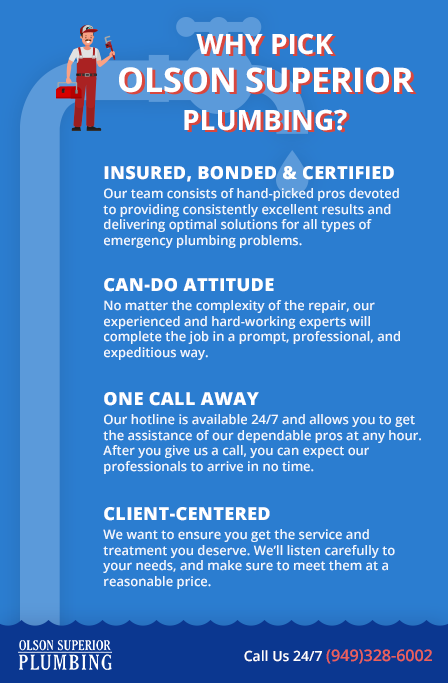 Need emergency plumbing services in Fountain Valley? Call (906) 256-6406 & we'll be at your door in no time!

What our customers say about our approach:
"I had a great experience with Lyle from Olson plumbing. He was very reliable and trustworthy in fixing some of my water leakage problems. He called 20 minutes prior to arriving, was professionally dressed and wore booties into the house. He did a complimentary inspection of my plumbing system and brought up some of the culprits which could be contributing to the water leakage and increased water bill.
After we agreed on the repairs, he completed them speedily. He was also very honest, providing opinion about what repairs were urgent and which could wait. Even my pup loved him! Really enjoyed my experience and will recommend Olson plumbing to friends and family."
Crystal Y, Irvine, CA
"I have used Olson Plumbing before and did not hesitate to call them again when I was worried that I had a gas leak from my stove. They sent Anthony over right away and he was able to locate the leak immediately. I was so relieved that they were able to send someone out immediately as it was an emergency situation. Anthony as always was very thorough and kind. I will use These guys for all of my future plumbing needs."
Chelsea V, Laguna Hills, CA
"I'm very impressed with Olson Plumbing, the owner Eric, and service provider James, are both integrous people at the top of their game, highly respectful and professional.
After having many issues with plumbers, I was delighted that Olson has their license readily available, and further, Eric has priceless insights into building code, and the long term mechanics of plumbing for lasting work. Definitely worth the call. Prices are fair and work is high quality backed by a guarantee. Thank you for your hard work and quality responses."
Dan R, Ladera Heights, Los Angeles, CA
"They are amazing! They came out to replace my water heater and also fixed some broken valves under my bathroom sink.
Eric Taysom is the best!!! When I called, he picked up the phone right away and walked me through getting my water turned off to stop the flooding even though my valves weren't working. He made sure we got great service, constant, consistent care, a great price, and even followed up with us after everything was finished to make sure we were still OK and fully satisfied with everything they had done for us."
Sean T, Rancho Santa Margarita, CA
Hire reliable emergency plumbing services in Fountain Valley
Our main focus is our customers and it shows. We want to ensure they get quality service and quick assistance when things get out of hand. Rest assured you'll get a prompt and high-quality service. Call (906) 256-6406 and hire us today.
Frequently Asked Questions
What classifies as a plumbing emergency?
These are the reasons to immediately call and ask for our emergency plumbing service in Fountain Valley and the region:
When your pipe bursts
There is a gas or pipe leak at your place
If main sewer blockage occurs
Call us instantly if your toilet is overflowing
If your water heater is broken and you have no hot water
Read More
What to do if my water heater is broken?
These are the steps to take if your water heater has broke down:
Stop the water supply to your tank
Shut off the power supply to your tank
Call professional emergency plumbing service
Clean up after the process is successfully completed
Read More
How do you tell if you have a burst pipe?
Pay attention to these signs to determine whether you have a burst pipe:
Your water bills suddenly went up
The water pressure seems to have dropped down
Wet spots in the ceiling or walls
A whistling or clanging sound in your pipes
Running water or dripping sounds
Dirty or smelly water
Read More
What to do if toilet water is overflowing?
If your water is flowing you should immediately call professionals that perform emergency plumbing services. This scenario asks for a fast and effective repair so that your property in Fountain Valley and the area doesn't incur any damage.
Read More
Who offers trusted 24/7 emergency plumbing services near me in Fountain Valley & nearby?
Olson Superior Plumbing boasts years of experience and numerous satisfied customers. Our trained and background checked pros will use customized methods and reliable tools to ensure your problem is solved in an effective and stress-free manner. We offer a wide array of services, such as:
Whether you live near
Allen Park
or
Colony Park
, our professional crew is at your disposal. We'll quickly react and find the solution to your problem. Call us whenever you need us, we'll be there!
Read More